Multi-layer filter
The AVICHE Y4A purifier uses a 4-layer composite filter, including bamboo charcoal filter, HEPA filter, activated carbon filter, photocatalyst layer. Different filters can remove different harmful substances in the air.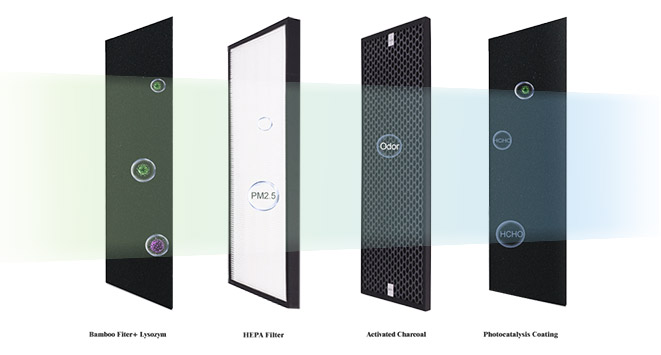 Bamboo charcoal filter
The new generation of bamboo fiber filters developed by AVICHE can not only resist bacteria and viruses, but also effectively inhibit the reproduction of bacteria and viruses, and prevent secondary pollution to the air.
HEPA filter
The HEPA filter can filter particles >0.3 microns in the air, including PM2.5, dust, pollen, second-hand smoke and other particulate matter, and the filtration rate is at least 99.97%.
Activated carbon filter
Effectively absorb the odor in the air and keep the indoor fresh air.
Photocatalyst layer
Effectively remove formaldehyde, photocatalyst coating, a strong degradation reaction will occur, so that formaldehyde is decomposed into harmless carbon dioxide and water
UV sterilization
Built-in uv ultraviolet light can effectively kill
99.9% of bacteria and viruses and protect the
health of your family.
Negative ion purification / Breath the forest-like fresh air
Using fullerene micro particle size negative ion technology,which can release 20 million pcs/cm³ micro particle size negative ions, not only can effectively remove harmful substances in the air, but also allows you to enjoy the forest fresh air.
| | |
| --- | --- |
| Using fullerene micro particle size negative ion technology,which can release 20 million pcs/cm³ micro particle size negative ions, not only can effectively remove harmful substances in the air, but also allows you to enjoy the forest fresh air. | |


360° air outlet Efficient area: up to 100 m2
| | |
| --- | --- |
| | Patented new technology air duct system, 360° dead-zone free air intake design and patented the oblique blow pressurization air duct technology, the nature real fresh air is directly blowed out to room roof and fall down to long distance space, which can quickly complete room air circulation and air balance. It can quickly create PM2.5 <10 fresh air room evironment. |
If you want to order AVICHE Y4A air purifier , you can contact us by the followings:
· Contact us by dialog in the lower right corner:We have a human customer service to contact you (Am8.30 to Pm5.30)

· Send us an email through the【contact us】 page of the website:We will reply within 24 hours after you send it out