In today's fast-paced and interconnected world, it's no surprise that even our home appliances are becoming smarter and more connected. With the introduction of WiFi and voice control capabilities, smart air purifiers have revolutionized the way we clean and improve the air quality in our homes. In this article, we will explore the best smart air purifiers C5 with WiFi and Alexa, offering automatic app control for a seamless user experience.
One of the standout features of AVICHE smart air purifier C5 is their ability to operate in smart mode. This means that the purifier will automatically start purifying the air as soon as it detects an elevated level of pollutants, specifically when the PM2.5 level exceeds 10. This ensures that your indoor air quality remains optimal at all times, without the need for manual intervention.
AVICHE Smart air purifiers C5 employ a comprehensive 9-stage purification system to remove a wide range of airborne pollutants. The stages include a pre-filter, HEPA filter, antibacterial filter, activated carbon layer, photocatalyst layer, lysozyme layer sterilization, nano silver sterilization, UV sterilization, and negative ions purification. Each stage plays a crucial role in capturing and eliminating different types of contaminants, resulting in fresher and healthier air for you and your family to breathe.
One of the key concerns when it comes to air quality is the presence of bacteria and viruses. Smart air purifiers C5 address this concern by offering a sterilization rate of 99.99%. They achieve this through the use of two replaceable UV lamps that effectively kill bacteria and viruses present in the air, providing an added layer of protection against harmful pathogens.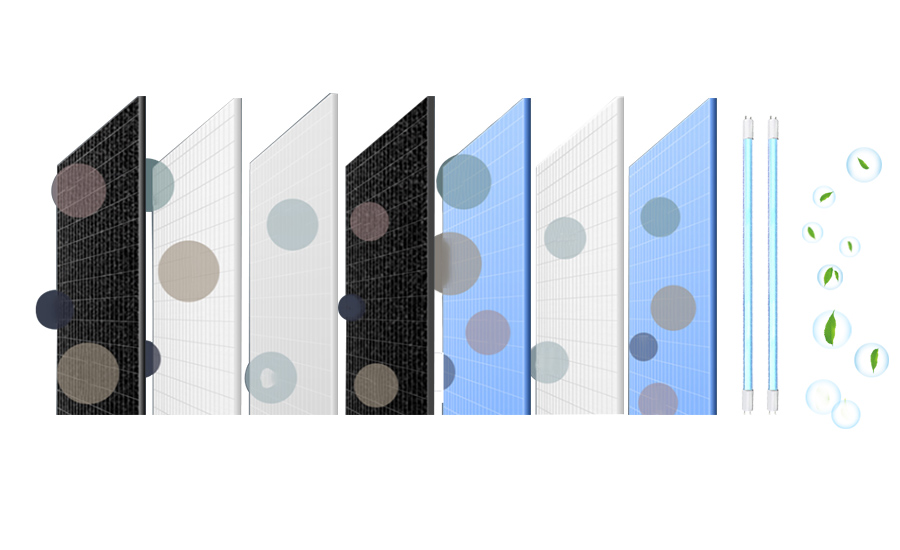 With the integration of WiFi and smart home technology, C5 air purifiers can be controlled through a dedicated mobile app. This app allows users to adjust settings, monitor and control the purifier remotely, and even receive real-time air quality updates. This level of control and convenience ensures that you can always keep an eye on your indoor air quality, even when you're away from home.
Moreover, smart air purifiers C5 can be connected to popular voice assistants such as Amazon Alexa or Google Assistant™. This means that you can simply use voice commands to control the purifier, making it even more effortless and intuitive to use. Whether you want to adjust the fan speed, turn on or off the device, or check the current air quality, you can do it all with just your voice.

To further assist users in understanding the air quality in their surroundings, smart air purifiers C5 feature an air quality indicator. This indicator provides real-time updates on the air quality, categorizing it as bad, unhealthy, medium, or good. This visual feedback helps users make informed decisions regarding their air purification needs and take necessary actions accordingly.
In conclusion, AVICHE best smart air purifiers with WiFi and Alexa bring a new level of convenience and control to our indoor air purification needs. With their automatic app control, 9-stage purification system, high sterilization rate, and integration with voice assistants, these air purifiers offer an unparalleled user experience. By investing in a smart air purifier, you can ensure that the air you and your loved ones breathe is clean, fresh, and healthy, all with the touch of a button or a simple voice command.